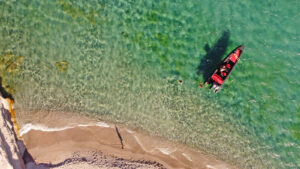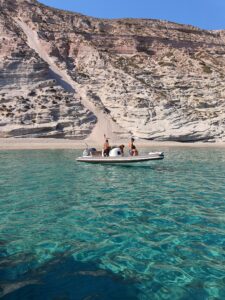 Enjoy the luxury, comfort and privacy of private boat cruises around magical Milos island, Polyaigos and Kimolos!!
Explore the breathtaking destination that will awaken your inner explorer, discover the secret gems with us.
Snorkelling equipment, paddleboard, sea scooter and waterproof camera are ready on board to use them.
We have designed the most amazing boat tours.
Greek Handmade Snacks, Fresh Fruit Salads, Cold Wine, Beers and Soft Drinks offered during the cruise!
Book now your private boat tour!
Immerse the crystal waters and explore secluded caves!!!
FULL DAY ALL AROUND MILOS
Best places of Milos, most of them accesible only by boat!
Vani, Kalogries, Sykia & Cave 11th europian best destination, Kleftiko the international hideout for pirates and caves, Tsigrado the beach with the ropes, Gerakas the Greek Hawai with the huge sand slides caused by perlite, Theiorychia (the most eerie part of the Cyclades is in Milos, it is a place where the sulfur mines used to be. beauty and reality still exists among the rare volcanic rocks), the worldwide unique lunar scenery of Sarakiniko, Glaronisia, Papafragas another secret gem of pirates, Plathiena and sunset at colourful fishing village Klima
FULL DAY 3 ISLANDS: Best places of Milos, Kimolos and Polyaigos!!
At this tour we go to admire in style and luxury the most beautiful places of Milos, Kimolos and Polyaigos!!
(Sykia, Kleftiko, Caves, Tsigrado, Gerakas, Theiorychia, Polyaigos the blue bay lagoon that its name means many goats which comes from the fact that the island is inhabited by some goats, a real eye catcher is Galazia nera, this bay with its indescribable turquoise blue water is a true paradise especially for snorkelling fans, Kimolos a small island with incredible natural beuaty with highligth Goupa Kara, Sarakiniko, Papafraga, Sunset at colourful fishing village Klima)
HALF DAY BEST PLACES OF MILOS
Vani, Kalogries, Sykia Cave, Kleftiko and caves, Tsigrado and Gerakas
HALF DAY MILOS & POLYAIGOS
Sykia Cave, Klefiko and caves, Gerakas, Theiorychia, Polyaigos
HALF DAY NORTH PART OF MILOS
Klima, Plathiena, Glaronisia, Fyropotamos, Papafraga, Sarakiniko
FULL DAY DURATION 9 HOURS
HALF DAY DURATION 5 HOURS (09.30 – 14.30 or 15.00 to 20.00)